Learn how to teach other people about wildlife & conservation. Your hometown may only have you to teach them about conservation efforts concerning native felines, feline species of special interest, and endangered felines around the world. Species diversity, current habitat status, conservation efforts for the future are all points of interest that local schools, libraries, and other conservation minded organizations are looking for qualified teachers to learn from. If you are a member of the feline holding community, that person should be you. You can either become a wildlife educator professional or at minimum, be able to teach the people around you about wild felines and conservation in a professional manner.
Having live wild felines to show people as you teach them about the species helps strengthen the desire in the general public to help wildlife. The purpose of a wildlife ambassador is to represent our wild relatives in a positive, safe manner that is educational and creates an appreciation for wildlife conservation. The Wildlife Conservation Educator Course gives you the tools necessary to become qualified as a professional wildlife educator of all wildlife but the course specializes in feline species.
Topics Covered Include:
What permits you need to become an exhibitor and the laws you need to abide by
What it means to be a professional wildlife educator and how you will impact your community and the animal industry
How to form a wildlife education business, establish a professional image and maintain credibility
How to choose wildlife ambassadors and basic animal husbandry
Animal training, enrichment and safety techniques
How to develop educational shows that flow smoothly, capture your audience's attention and raise conservation awareness
How to market your business and shows
Valuable tips to improve your show and set yourself apart from your competition
How to speak with a variety of people in a professional manner, from the media to your audience
How to maintain and grow a healthy business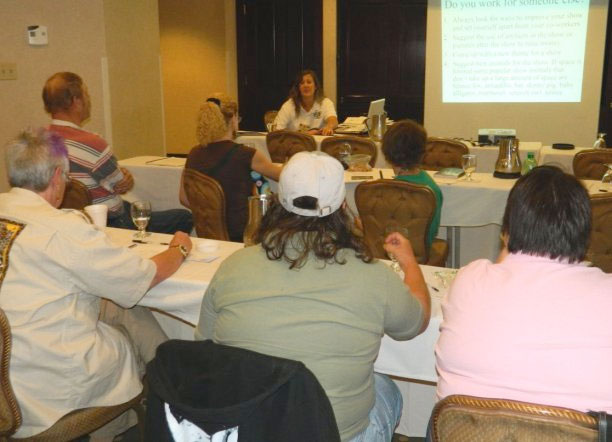 This course will not only give you the tools to start your own wildlife education business, it will help you position yourself in the animal industry to stand out and be an asset to any employer.
In addition to all the great information you will learn, students receive the wildlife education textbook to keep as a reference to help further your wildlife educational profession.
From leopard cats to African leopards, you will learn how to create and present a wildlife conservation program that will keep your target audience interested, entertained and inspired.
If you own a feline of any species, your time has come to be recognized as a source of information that is credible. As your reputation grows, your community and state will recognize the public education service you provide and include you on legislative issues to help you, as a professional wildlife educator, continue to impact the lives of students and adults of all ages.
This course is traditionally offered at the start of annual Conference. Additionally, the course is offered at other times of the year in various locations. If you are interested in hosting this course at your facility, please contact us.