The Feline Conservation Foundation holds its annual conference in the Summer each year. This multi-day event provides a mixture of education and networking within the feline community, as well as an opportunity for members to participate in the FCF organization on the national level.
Conference programming includes speakers covering subjects of practical interest to members who work with wild cats, including topics like nutrition, enrichment, regulatory concerns, legislative issues, veterinary case studies, conservation programs and projects supported by the FCF or its members, and current events.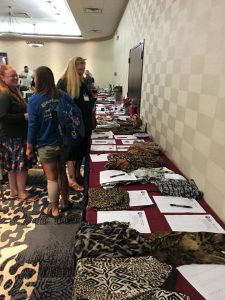 The conference is usually hosted by a zoo with a special interest in feline collections. Host facilities in the past have offered backstage experiences, special training opportunities, and collaborative workshops.
In addition to the core programming, the FCF offers educational courses, such as Wild Feline Husbandry, an Introduction to Wildlife in Education Programs, and Contingency Planning Resources as add-ons for those with an interest. Pre-registration for these courses is usually required.
The conference is an opportunity for the members to gather for the annual general membership meeting. Members may submit subjects for the meeting agenda. All members, whether they are able to attend the conference or not, have the opportunity to give input. At the general membership meeting, these topics, and updates and reports from the board members are brought up for input and discussion from those present.
The FCF Board of Directors also conducts its annual board meeting during the conference. All FCF members are welcome to attend.
Besides the business conducted at the conference, it is also a great opportunity to meet with other FCF members. An icebreaker, hosted meals and free time at host facilities allow ample time for social mixing and networking.
The conference generally concludes with an evening banquet followed by the fund raiser auction. Members and supporters donate items to raise funds for the FCF's programs. Auction donations are displayed for silent auction throughout the convention, with a few chosen items auctioned off live to the highest bidder. Besides being an important source of funding for the FCF's projects and conservation interests, the auction is a lot of fun and a highlight of the conference.
The location of the conference varies from year to year, ensuring a new and exciting experience at every conference.