Members enjoy reading the quarterly FCF Journal. Join today and you can too!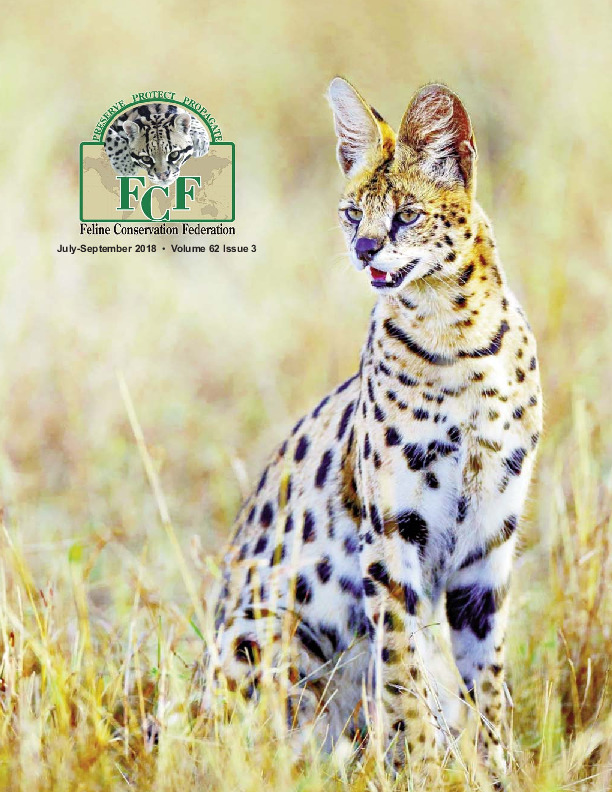 click on this Journal image to read a sample issue.
The Feline Conservation Foundations's quarterly Journal is a unique mix of articles written by experts and members on captive husbandry and human/feline interactions, as well as FCF events and accomplishments and reports from the field by FCF supported conservation researchers.
Each issue is packed with feline photos, commentary, species spotlights, national and international news affecting feline caregivers including the latest  on pending legislation and regulation proposals. There is no other publication that combines such a distinctive and informative view of the world of wildcats and their caregivers.
A few of the article titles in the FCF Journal include:
"What is the latest in Washington?" by Bill Hanka, Hanka Advocates
"Second-hand Servals" by Kim Barker, Conservators Center
"The Importance of Good Record Keeping" by David Kleven, Animal Care Software
"Communicating with Animals" by Erin Carey, Tiger World
"The Belize Zoo and Tropical Education Center" by  Shelleen Mathews, Wild Feline Advocacy Center
"River Legacy Park Bobcats" by Lynn Culver, FCF reporter
"USDA Fails to Protect Animal Businesses" by Mindy Patterson, Cavalry Group
Back issues are posted in the members only website and the first 50 years of this organization's publications, including vintage issues of the Long Island Ocelot Club newsletter are available on a searchable database.