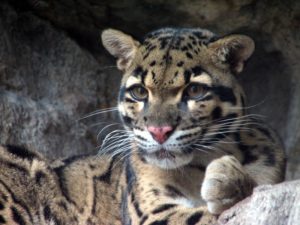 FCF members have been involved with both in-situ and ex-situ conservation for decades. FCF members are active participants of captive breeding programs, FCF educators spread awareness about wild cat species, and FCF exhibitors raising funds for active conservation projects.
The FCF organization furthers conservation of wild felines in nature by awarding conservation grants to researchers and wildlife managers in the field. Over the past twenty years FCF has contributed to over $50,000 in grants.
FCF Conservation Grants and the financial support of individual FCF members goes to proposals that improve feline conservation through local education, programs that reduce or mitigate human/feline conflicts, and the monitoring and in-depth studies of wild cats that aid in the conservation of the species. Any proposals seeking FCF consideration should specifically address the conservation value of the project. Although priority is given to threatened species according to the IUCN Red List ranking, other wild cat species will also considered.
Survival of a species is best achieved in the wild, FCF support is contingent on establishing in-situ field programs in parallel with captive programs. Species of interest to FCF include the Andean cat, Bay cat, Clouded leopard, Fishing cat, Flat-headed cat, Geoffroy's cat, Guigna, Pampas cat, Margay and Marbled cat.
The Conservation Committee receives grant application proposals submitted to the FCF.  The Committee evaluates submissions and recommends grants to those proposals that match FCF goals.
FCF's current conservation projects budget is set by the board of directors annually. Substantial additional funding to specific projects is also provided by FCF members and through your donations to the FCF Conservation Grants Fund. If you are currently working in the feline conservation field and are interested in applying for an FCF Conservation grant, please fill out a grant application and submit it by email to the Conservation Grants Committee.
The FCF Conservation Committee reviews grant application proposals submitted to FCF.  A Conservation Grant Committee will evaluate submissions and award grants to those proposals that match FCF goals.
| | | | |
| --- | --- | --- | --- |
| Organization | Support Description | Grant | Year |
| Fauna Andina | Effect on Puma activity close to humans. | $2000 | 2021 |
| Instituto Pró-Carnívoros | Ecosanitary relationships between wildcats and free-ranging domestic cat in southernmost Brazil | $2000 | 2021 |
| Instituto Curicaca | Living on the edge: spatial and feeding ecology of jaguars in Turvo State Park | $2000 | 2021 |
| Belize wild cats | Monitoring Maya Forest Wildlife Corridor wildlife re-introduction | $1800 | 2020 |
| Malaysian Conservation Alliance for Tigers​​ | Member conservation fundraiser for world tiger day | $500 | 2020 |
| Cheetah Conservation Botswana | Support the ongoing training and care of four livestock guarding dogs. | $1,000 | 2020 |
| Cheetah Conservation Botswana | Support the ongoing training and care of four livestock guarding dogs. | $1,000 | 2019 |
| Cheetah Conservation Botswana | Support the ongoing training and care of four livestock guarding dogs. | $1,000 | 2018 |
| Tsavo Cheetah Project | To fund the vehicle running costs associated with the hiring of two additional cheetah scouts and the printing of a year's supply of educational materials for schools and communities. | $2,850 | 2017 |
| Cheetah Conservation Botswana | Support the initial training and care of four livestock guarding dogs. | $1,000 | 2016 |
| Ruaha Carnivore Project | Collecting baseline data on large carnivore populations in Ruaha, training local researchers, disseminating information, mitigating human-carnivore conflict and improving local capacity around Ruaha National Park. | $1,000 | 2015 |
| Tsavo Cheetah Project | Support studying the Cheetah Population for Implementation of Conservation Measures for Their Survival, in Tsavo, Kenya. | $2,400 | 2015 |
| Fishing Cat Conservancy | Enabling capacity-building training on wildlife camera-based monitoring of fishing cats. | $2,100 | 2014 |
| Wildlife Conservation Society, India | Facilitate wildlife and nature conservation by providing reliable information and the tools needed to meet the ecological needs of wildlife populations in decline, and to the recovery and expansion of their habitats. | $500 | 2014 |
| Small Cat Conservation Alliance | Effective conservation actions will be formulated and conducted based upon research that studies the effects of the native people's consumption of viscachas, the principal prey of the Andean cat, the effects of mining activities, global warming, and the introduction of exotic species into the pristine ecosystem. | $15,000 | 2013 |
| Guigna Conservation | To support an educational program and mitigating conservation activities to diminish cat-human conflict in the Valdivian Coastal Reserve in Chile | $1,500 | 2011 |
| Marianela Velilla | Perform non-invasive methods of DNA testing of collected fecal samples to determine the number of individuals and species present in the Chaco of central Paraguay. | $800 | 2011 |
| Dr Gerardo Acosta-Jamett | Study the ecology and threats to the guiña in Chile. | $1,000 | 2010 |
| Carnivore and Pangolin Conservation Program's | For field survey for Marbled Cat and Clouded Leopard in the Ke Go-Khe Net lowlands of Central Vietnam. | $800 | 2010 |
| Andean Cat Conservation Center | Will support the estimated $10,000 annual operating costs for the Andean Cat Conservation and Monitoring Center. | $15,000 | 2009 |
| Fauna Andina | The funds will be used for conservation of native Chilean fauna. | $3,400 | 2008 |
| Margay Research | Buy eight brand new UHF/GPS radiocollars. | $5,000 | 2007 |